It takes time to get to the point where things just flow in your yard. At least that's been my experience. Our yard in Portland was a lot smaller, and the soil there, in the beginning, needed help just as it does here- here it just needs different ingredients. I try to remind myself that the soil we left behind there in Portland was in great shape, but that took 8 years. Now the reasons for it taking so long were partially because I had no idea what I was doing- there was more trial an error. I'm grateful for everything I learned there because it allowed me to just take off here- with confidence. Still, soil improvement takes time- no matter what.
There are things that need to be thought out, built, purchased, or borrowed. There are resources that need to be found, preferably free, in order to get soil built up. We managed to get quite a bit done our first year here- and that's even with Pat gone a lot for work! I've got 2 resources for composted manure, and straw or hay. We've purchased a small utility trailer (we still have to put it together). I've found some great local soil suppliers. The greenhouse is up, with one ground bed in too. Slowly but surely it  is all coming together. If there is anything gardening teaches you…it's patience.
I especially like using what we have on hand. For example, Pat and I built a compost sifter. Nothing fancy, just a simple sifter I can place over a wheel barrel and sift away- without too much trouble…or back pain. We used some scrap wood from an old dog house that was left by the previous owners, and I purchased some 1/4" hardware cloth- simple.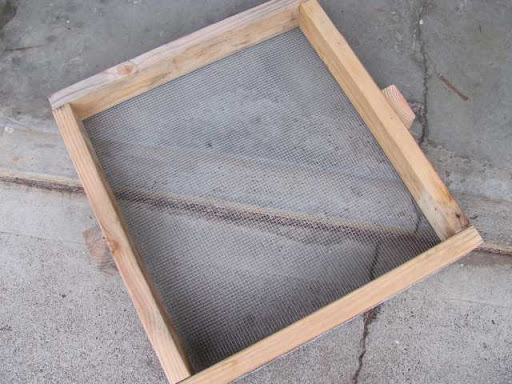 I made sure to put handles on this one-
I've managed to get some short rows of some things planted in the greenhouse bed- not much, but it's a start.
I planted-
Carrot, radish, spinach, 2 kinds of lettuce, mache. I'll sow more in 2 weeks. Just a bit here and there to get things going, and have some baby greens. I also sowed some chard yesterday in a pot by itself- I think it's too early for it here, but Pat really wanted me to start some. All these things will be experiments, and I'm using a double cover- first in the greenhouse and then covered with a tunnel. It will be interesting to see how it all works out, but if Eliot Coleman is right we should have some early crops. I love it that we're now in the same zone and latitude (approximately) as he is so using his ideas and dates  is easy.
I also had a few bulbs left over from last fall and noticed that they had started growing- so I threw them in a pot in the greenhouse too.
I've planned out the crop area beds and laid some hay out (yes, I'll have some weeds to deal with this year!). Next, I'll top it with composted manure and add greensand, rock phosphate, and peat. Then comes the shallow tilling and I'll mark out the beds and put in paths with some newspaper and straw. The soil in this area was used for crops before we moved in, but I have no ideas what, if any, amendments were used- my compost was started last year…and we all know compost fixes everything. I'm looking forward to having some to top these beds.
I'm planning on 30" wide beds for most of the area (again Eliot Coleman) as I always seem to go back to that size if I change things.
As you can see above, it was a bright sunny day today! It was 90 degrees in the greenhouse and I had to vent. The high outside was 50 degrees- I love it! I could have worked in a tank top easily, but I didn't want to get burned :). That doesn't mean we won't get more snow and cold weather though…I have to remember that it is still January!
As I finished up today I looked out from the deck and was amazed how much everything has changed already. Here is a before shot (taken when we first looked at the place) and a shot taken on this beauty of a day today.
               ~Taken 10/24/2009~                                         ~Taken 1/22/2011~
Just a slightly different angle- but you get the idea, just focus on the telephone pole. The tree is gone (it was just to the left of the greenhouse in the current pic.) and I put paths right through those big beds because going all the way around was a pain. When I look at it like this it is amazing how much has been done and this is just one corner.
Here is a drawing I did before any work was done. I tried to do to scale…you know how that goes.
Here is the same drawing with some things changed- some of which have been done.
The greenhouse is in the upper right. The blue area is where we'd like to put a stream some day and make the pond in the upper left a little more interesting. The green area is the small grass area we put in last year- and it is much smaller than how the drawing looks! I'll post some photos when the grass comes back to life- and we're hoping it will ;). I used some plastic to overlay the original, so I can make changes and start over, if necessary. I wish I could make the detail better so you can see the deck and the trees and where the chickens will eventually go, but for now this is it. I plan to do this on my computer, but that will take some time.
Very soon I'll do a series of tours of our new place so you can get a good picture of everything- so much work to do, but things are starting to take shape in my mind- very fun!
Happy Gardening,
Tessa